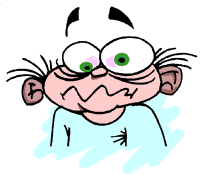 Website/Webmaster Disclaimer:


Dave Lightner & Creative Sites 2005 would like to thank you for visiting this website online. This website has been posted to help provide and relay accurate information concerning the "other" definition of a Deadbeat Parent. All information contained within this site is as accurate as possible at the time of posting & is GENERAL PUBLIC KNOWLEDGE & INFORMATION. As a service to the Public this site will strive to provide the best content possible, suitable for all users.

Please keep in mind that pages linked from our site & guestbook are not under the control of the Creative Sites 2005 nor Dave Lightner. The quality and content of Internet pages varies greatly and must be evaluated critically by the user. This website does its best to point its users toward reliable and useful sources of information. As you venture beyond our site, please note the the source of the information that you access.
The Deadbeat Parent (Another sense of the word) Website was created by, along with maintained, owned, & operated by Creative Sites 2005 for Dave Lightner as he strives to "right" what is wrong with the Family Courts Division in the area of where his kids live.

Once again, thank you for viewing our site.
If you have any questions, comments or concerns pertaining to The Deadbeat Parent (Another sense of the word) Website, please email Creative Sites 2005 or Dave Lightner
Dave would also like to thank the following people for their support, advice & friendship through this whole ordeal of what he has to endure each day: Valerie (Dave's wife), My Family, and his extended family (Kat, Becky, Missy). Dave would also like to thank Kat & Becky for their extended help in their proof-reading of the website.
We hope & pray each day, that someone will provide the information needed of Ms. Kacinko's address in order for Dave & his kids to be reunited one day.