SECTION 1
Welcome
Definitions
My Story
SECTION 2
Meet a Deadbeat Mother
Parental Alienation Syndrome (PAS)
Helpful Links
Website Disclaimer
Webrings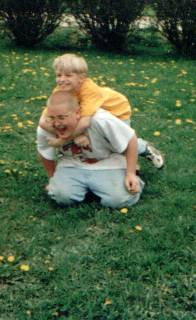 This Website was designed as a informative way for people to get an understanding of the "Other Meaning" referring to a DeadBeat Parent. There are the DeadBeat Fathers & Mothers whom are supposed to pay Child Support, but simply refuse to. Instead they choose to run from their child(ren) & not pay anything at all. This is the main understanding that people have of a Deadbeat Parent.
However, there is another version that most all do not see or hear about thru the News Media & so forth. These people are also known as DeadBeat Parents. They are the ones whom defy Court Orders of Joint, Partial Custody & Visitation Orders signed by the Family Division Courts. Who gets hurts from all of this is the children. They are told stories such as: "Mom or Dad does not want to see you, does not care about you & so forth." They are even told lies such as: "Your Mom or Dad is dead or in jail, so he/she will not see you again & so forth"
My children & I have all been put through the "proverbial washer of hell" over the years in dealing with a "Deadbeat Parent" (My Ex-Wife). My kids have been lied to over the years of knowing my existence as their Dad & along with my side of their family. They have been told lies such as "Your Dad is dead", "Your Dad is in jail", "Your Dad doesn't want to see you at all" & so forth. My kids have been denied the love that I have for them, the love my family has for them, they have been denied Holidays with my family, Birthdays & so forth.
****UPDATE****
Roberta J. Kacinko's most current & recent address has been confirmed! I would like to say "Thank you" to the following people for their help in confirming her address. Don M. & to the 3 anonymous Guardian Angel Ambulance Service Employees for their efforts obtaining Ms. Kacinko's most current address.
IT TAKES TWO

Children are living breathing human beings - not cute little puppies that you leave on a street corner, drop with relatives, or abandon when you get tired of the responsibility. They are a life long commitment, they look up to us (as parents) for guidance, reassurance, life goals, & so much more.

Children require teamwork - and a lot of it. It's always better with two parents in the same household. However, playing games and alienating your ex is not the way to go. Alienation is a terrible thing to do to the other. It shows in your children as they become older, towards the other parent.


Refusing your ex's visitation is not conducive to good relations, and definitely not good for the children. Neither is badmouthing your ex to the children. You're an adult, so act like it. Children need both parents. By law, unless this parent is a menace or dangerous, they are entitled visitation of their own children. If you have just cause for worry, call your local child protection services.


It takes two to raise a child!